Tailoring service available
Premium Silks
Color choices
Guaranteed quality
Competitive pricing
Includes Blouses
Tailoring service available
Your one stop Indian ethnic wear
SRM Fashions is a new dimension to ethnic fashion, the perfect marriage of modern and traditional fashion in the online retail space.
With over 50 years of experience in clothing business rooted from Southern India, we have established our presence Herndon, VA. Quality, Honesty and Integrity are our top 3 priorities. If you are not 100% satisfied with our products, we will be glad to fully refund your money. Rest assured and look better :)
For questions, please write to srm20171@gmail.com. Please visit us on Facebook and Like our page www.Facebook.com/SRMFashion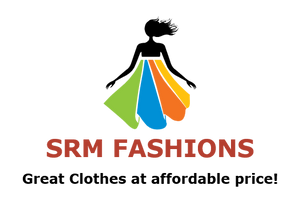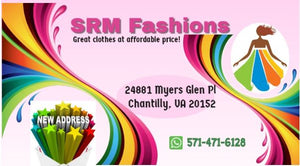 Who we are, What we believe in?
SRM's passion towards Indian ethnic clothing is deep rooted for 2 generations.
Our family established our first readymade garments stores in TamilNadu, India in 1967.
With trust and respect, the business thrives todate. It was possible with 3 credible efforts, Quality, Honesty and Integrity.
SRM's new entity in USA was established in 2016, based in Chantilly, (South Riding) Virginia.
Beautiful clothing ideas run in our veins. SRM in Virginia does not own expensive stores or high paid employees. With a low profile and high quality materials, we are able to offer you best clothing for half the show room price.
If you have questions,  please contact us at 571-471-6128  or email us at info@srmenterprise.com
Facebook : http://facebook.com/SRMFashions